Ernst Klett Publishers, Stuttgart, Germany
Learn all about Klett and Klett publishing. Check the latest Klett news and read about our activities:
Klett EASTERN EUROPE Countries:
Visit the Klett website for your area. Check publishing information, regional news, contact information and more.
Klett EASTERN EUROPE Contacts:
Check local EASTERN EUROPE Contacts. This area is for members only.
SERBIA
KLETT Ltd.
Maršala Birjuzova 3-5 (4th floor)
11000 Beograd
NOVI LOGOS Ltd.
Maršala Birjuzova 3-5 (4th floor)
11000 Beograd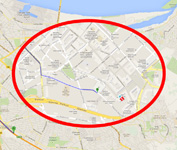 We are located in the city center, near Knez Mihailova Street (pedestrian zone) and Branko's bridge. There are many bus lines near since it's very busy part of a town.
Coming from the highway by car, it's best to exit going to Savska Street, followed by Karađorđeva Street which is leaning slightly left. When you get to the end of Karađorđeva Street, turn right into Kneza Sime Markovića Street. At the end of it, you will enter Pop Lukina Street. The second street on your left is Maršala Birjuzova Street where we are located.